I created this gorgeous oatmeal soap in honor of Breast Cancer Awareness month, and for those ladies in particular who might be facing a scary diagnosis, and/or might be going through chemo. Many of you have asked me what to use for compromised skin – skin that is perhaps extra dry, itchy, and very sensitive. This soap is formulated with rich, nourishing oils, rose clay, and oatmeal, which is great for very sensitive itchy skin. It's easy to make, and might work as a great Holiday Gift project.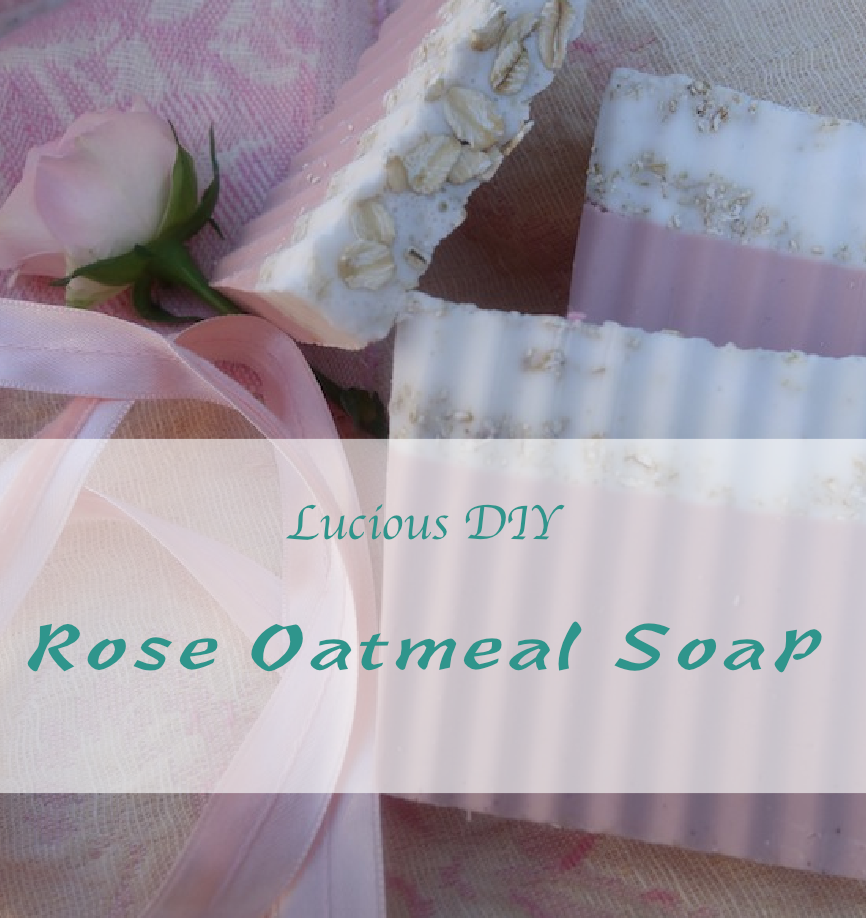 Moisturizing, Anti-Itch Soap Recipe
INGREDIENTS
Other Ingredients & Equipment You'll Need:
Microwave safe-Mixing Bowls or melting pot that you can stand in a pot of boiling water (aka Bain Marie!)
Food processor or blender
Small bowl for mixing clay
Stirring Spoons
Microwave
Scale
Spatula
DIRECTIONS
Cut up (in small pieces) a total of 3 pounds of Oatmeal Melt & Pour Soap Base. For your first layer, you will need 2 pounds of the soap. Set the other 1 pound of soap base aside for your top layer.
Prepare your natural rose clay colorant for your soap by combining 2 tablespoons of vegetable glycerin with 2-3 teaspoons rose clay. By mixing your clay with vegetable glycerin, it "wets" the clay and helps to quickly remove clumps. Your mixture should be a paste like consistency. Set aside.
Prepare your ground oats: Measure out ½ cup rolled oats and place in a food processor until it is nicely ground. Set aside.
In a microwave-safe mixing bowl, melt 2 pounds of Oatmeal Melt & Pour soap in the microwave. Be careful not to get your soap too hot or it can scorch. We suggest melting the soap in 30 second bursts, stirring, and placing back into the microwave until your soap base is completely melted.
 To your melted soap, add the following: 1 teaspoon avocado oil, 1 teaspoon vitamin E oil, 1 teaspoon jojoba oil, your rose clay mixture, and ½ tablespoon tea tree essential oil plus ½ tablespoon lavender 40/42 essential oil. If you want to keep your soap unscented, simply do not add essential oils. Stir until everything is mixed well.
Pour your soap mixture into the square soap loaf mold. Spray top of soap with rubbing alcohol to remove bubbles.
Allow this layer of soap to set up for about 15-20 minutes at room temperature.
Prepare your second layer of soap by melting the remaining 1 pound of Oatmeal melt & pour soap base in the microwave as described previously.
 Once your soap is completely melted, add the following to your melted soap: ½ teaspoon avocado oil, ½ teaspoon jojoba oil, ½ teaspoon vitamin E oil, ½ cup ground rolled oats, ½ Tablespoon Lavender 40/42 essential oil (optional), ½ Tablespoon Tea tree essential oil (optional). Stir.
Spray the "pink" layer of soap in the mold once again with rubbing alcohol. Doing this will allow the white oatmeal layer of soap to properly adhere to the pink layer.
Pour the "white" oatmeal layer of soap on top of the "pink" layer, and quickly sprinkle top of soap with whole rolled oats.
Allow your soap to set up for several hours. Cut your soap into slices, and enjoy!
I love to wrap my soaps in fabric remnants, ribbon, twine and then tuck a little rose bud in the bow.
If you haven't already, please make sure you sign up for my Weekly Dose of Goodness.