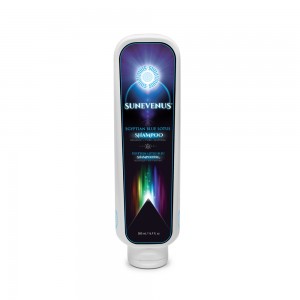 I'm always on the hunt for cutting edge natural products, so I was instantly intrigued when I received a bottle of Sunevenus Egyptian Blue Lotus Shampoo in the mail. One of the key ingredients in this lovely shampoo is extract from the rare blue lotus flower, which the ancient Egyptians praised for its ability to bring peace to the mind and body, as well as feelings of elation and sexual balance. The ingredients list on this shampoo really impressed me! Not only is it full of several rich, moisturizing oils like avocado, pumpkin, coconut and sunflower, it also contains deeply cleansing ingredients like pine, peppermint, nettle and dandelion extracts.
This blue lotus shampoo is unique because it produces a rich lather which is very rare in all-natural shampoos. As I was washing my hair with it, I totally felt like I was using an expensive, salon-quality product, but, because it is made with only the highest quality organic plant, vegetable, tree and flower extracts, I know it's 100% safe for my body and for the environment. This shampoo is truly a one of a kind product that produces one of a kind results. I didn't even need to use conditioner with this shampoo because it's so nourishing!
Like other natural shampoos, Sunevenus does not contain those nasty additives that coat hair and give it that "silky" just-washed feeling. (I personally don't mind this one bit since that feeling comes from chemical substances that cover your strands and actually damage hair in the long run). Because of this, I recommend that you brush your hair out before washing to prevent unnecessary tangles. You hair may feel a little stringy when you just get out of the shower, but, once it starts to dry, you'll be amazed by how soft and shiny it is!
For all my latest reviews, tips, recipes and more, make sure you subscribe to my weekly dose of Gorgeous!