Amata by Dr Christiane Northrup is an entire line of both beauty products and supplements that aim to help women through menopause. The story behind A-ma-ta is that Dr Northrup realized that women in Southeast Asia have used the Pueraria Mirifica root for hundreds of years to overcome the symptoms of menopause and to renew their vitality and glow. So, Dr Northrup has smartly developed a patented essence of this root to create internal supplements and external personal care products.
I was sent a lovely box of goodies to try, and here's my verdict: VERY IMPRESSED!
Amata by Dr Christiane Northrup supplements: You can either take capsules or drops. I am taking the capsules, and although I'm not in full menopause yet, I'm definitely (and have been for quite a few years,) in peri-menopause. It's hard to say whether or not they are working because I've only been taking them for a couple of weeks, so I'll have to report back once I've gone through a whole cycle. I'll let my husband be the judge of whether or not my "moods" improve!! And with a full slate Amata by Dr Christiane Northrup of supplements, you're sure to find something you need.
The skincare: LOVE – really love them! I'm addicted to the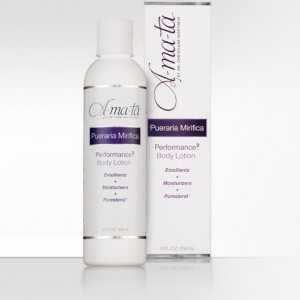 body lotion because of its delicate scent and wonderful texture- When massaging it into my skin, I really feel as if I am nurturing myself. It absorbs quickly, and yet is super-hydrating. The facial moisturizer is beautiful, too – with a slightly lighter texture, which is perfect for both AM and PM hydration.
Last but not least is a line of luxurious gifts such as a beautiful candle and linen spray. The scent of both is delicate and soothing and will encourage you or someone you love to slow down, take it easy and do the one thing that most of us have forgotten: to nurture ourselves.
Click here to read more reviews!