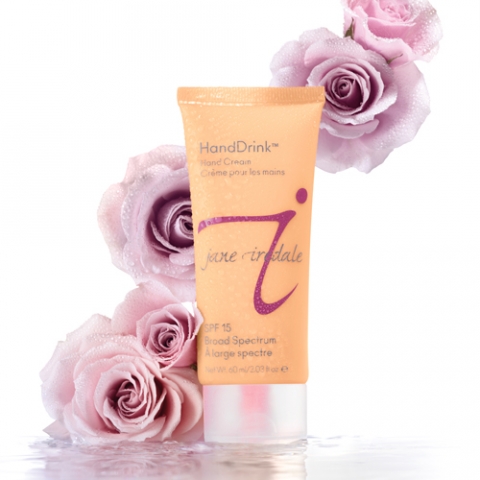 Hand Drink by Jane Iredale is the latest hand cream that's come under my radar for review, and I am delighted to have found this superior hand product. It's nourishing, it has sun protection, and it performs beautifully! White and green tea extracts moisturize and replenish skin (and provide antioxidant protection), and liposomal encapsulated apple extract brightens and evens the appearance of skin tone.
Yes, you read that right – Hand Drink by Jane Iredale has SPF 15 broad spectrum sunscreen. In fact, Hand Drink is recommended by The Skin Cancer Foundation as an effective broad spectrum sunscreen.  As someone who thinks about aging hands, I must admit: This is a major win. Sun protection is key to any anti-aging regimin, and so often we neglect our hands in these practices (especially when sunscreen can often be greasy and unpleasant on your hands). Not so with this product, that's for sure. And, the SPF in Hand Drink is reef safe.
Oh, and the scent is heavenly. I sometimes worry about overly scented hand products (because they tend to stick with you during the day). Hand Drink by Jane Iredale is scented with lemongrass oils which are tremendously refreshing.
I have definitely used Hand Drink all over my body in a pinch, including on my face. It's both vegan and gluten-free, which I love. Methinks the idea little tube to toss in your purse to keep your hands soft and protected.
For all my latest reviews, tips, videos and more, make sure you subscribe to my newsletter.