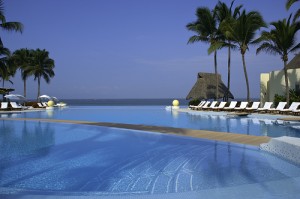 Let the magic begin" is inscribed on a bronze sign, which hangs beside a gigantic chair, which is fashioned in the likeness of tall wizard, whose lap you can pose in for photographs. This giant bronze sculpture greeted us our taxi whisked up into the gorgeous, airy atrium of Grand Velas Riviera Nayarit, just twenty minutes away from Puerto Vallarta Airport.
We were invited to sit on comfortable rattan couches while we were served chilled hibiscus tea and had little bracelets attached to our wrists, which meant that from now on we wouldn't be required to pay for anything at all.
Grand Velas Riviera Nayarit is one of the only luxury all-inclusive resorts in Mexico – plenty of all –inclusive hotels, but very few who can really call themselves truly luxurious.
It seemed like a perfect idea to book this vacation as my family had 2 things to celebrate – my mother-in-law's 80th and the celebration of my husband having put up with me for 12 years. My daughter also came along – so youngest 10 years old and oldest 80. I was, however, nervous about booking something that would check all the boxes for our diverse needs and interests.  My daughter likes things to do, preferably with loads of kids her age, my husband wants to scuba dive, I want to chill out and get to actually read a book while munching on fresh/local food, and the grandparents like to chat to people and play cards. Couple all that with the fact that I am Princess Fussy-Pants through & through, my husband thought our trip to the Grand Velas could prove interesting!
I chose this getaway as, I wanted to find a resort in an easy-to-get-to vacation spot for most families, which wouldn't be cripplingly expensive and yet would afford everyone a chance to experience some well- deserved pampering. I also did my research and found out that despite the cultural obstacles of being in a beach Resort in Southern Mexico, Grand Velas were making great strides in the green space – which I heartily applaud, as I know how hard it is to make these changes here, as opposed to in America.
Also, despite the fact that Mexico has recently had a bad rap in the media for being dangerous, I can assure you that not only is Puerto Vallarta very safe, but the hotel was filled with Mexican guests from cities all around the country- and after numerous conversations, I realized that the situation, although serious in some areas, isn't as terrifying as the media would have us believe.
The 9 year-old property is set on the Riviera Nayarit, which between Puerto Vallarta and Punta Mita on a long stretch of beach, which is a little more heavily populated with hotels and resorts,than I had wishfully imagined, that said, once you're in the resort, you feel like you've arrived in a secluded paradise.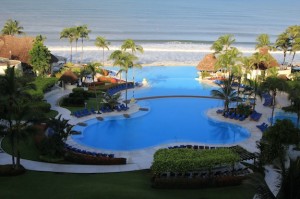 A velvety, warm breeze greeted us as soon as we stepped outside the open-sided lobby to gaze at 3 beautiful infinity pools, which lead your eye all the way to the glittering Pacific. Being the beginning of September, it's their lowest season because it's the one month of the year, where is rains practically everyday – sometimes very hard. We didn't mind because we love the whole tropical feel and actually welcome the warm rain when it falls. There's also plenty of very hot sun during the day, and it's a good month to great a great deal.
The two hundred and forty suites are all built in a crescent overlooking the ocean. Every suite has an ocean view. That was a great plus for me – the fact that if you have kids you can take the most basic standard suite and still fit your kids in comfortably (kids are free,) and you'll there's no chance that you'll have a view of a concrete wall or the back of another hotel – just the glorious ocean.
Our standard "Parlor Suite" would be perfect for a family of 3 or 4. The suites come in all kinds of different configurations, however we had a huge cal king bed with a separate large living room, separated by wooden shutters. The large couch opened easily into a comfortable king – perfect for two kids. You could probably fit a third kid in if you asked for a cot and you still wouldn't be too cramped.
Every detail for comfort is considered in this hotel: Organic teas and coffees with a Nespresso Expresso Maker, soft robes, and spa sandals. There's also a new tray of snacks provided daily and the mini fridge is a basically take-what-you-want deal and you won't get charged – ooooooh – that was fab, NOT having to screech at my daughter for downing a ten dollar packet of M & M's "Take what ever your want dear one," I chirped and I helped myself to a tin of salty cashews.
The thing is you don't want for anything in this resort. You think of something you might like and it sort of magically appears, which is to say that the service is exemplary. Having been lucky enough to stay at quite a few fancy-schmanzy resorts in my time and having experienced all kinds of service good and bad, The Grand Velas couldn't be any better in the service department.
The thing which really blew me away, is not only is there someone to take care of your every need whenever you turn around, but they seem to really care. Day 2 by the pool, everyone knew the first and last name of everyone in our party – the staff are clearly really proud of their jobs.
I'd sit down on my sun lounger by the gorgeous pool and immediately have the full-set up arranged for and around me – little tables for drinks, umbrellas tilted in the perfect position, extra dry towels – or would Senora even like a cool cologne-infused cloth & a spritz of Evian to cool her sweaty face down? And Senora took rathera fancy to these creature comforts! I'd barely finished my virgin pina colada or sparkling water and lime, before Angel or Luis would be ripping open a freshly chilled can to top me up. My in-laws couldn't believe it because they are truly not at all used to this kind of thing and it tickled them pink. They so don't take it for granted and are such kind folks, that by the end of our 5 days they knew the family dramas of virtually all of our servers. My mother in-law would point out one of the waiters and inform me that he's just has his 3rd child and has to take a 2 hour bus journey to work everyday. She even knew what he ate for lunch and dinner.
Suffice to say, you cannot go hungry or thirsty at this resort. You can swim your way across the aqua pool and sit on a water bar stool and order as many cocktails or beverages of any description that you could possibly get down! We were a light-weight bunch – only one of our group of 5 drinks alcohol and at that very little. Still, I kept Luis running back and forth with mugs of hot green tea, which they clearly thought was loco (and probably was,) in that stifling heat.
Kid's clubs at resorts can be a bit depressing/boring and oftentimes my daughter has one look inside, and makes me promise that I'll not drop her off there ever!
Grand Velas is an entirely different affair and if you have kids under the age of 8, you'll be so very happy! Each kid has a little flat-screen TV with a large bear-shaped cushion to lounge on – my husband thought he might take him a little nap there too! The friendly and well-trained staff will take your kids off for the whole day with a Summer-camp-like program including everything from making Mexican crafts to playing water guns in their own private pool – very nice. My daughter got really hot one afternoon so I told her to get on in there. An hour later I peeked in to see her lying on a giant bear, watching the movie of her choice with a giant bowl of popcorn, while being attended to by two lovely Mexican girls – she was in absolute heaven.
Breakfast is the usual buffet that you'll find in a decent holiday resort. The ubiquitous pancakes, waffles, omelets-made-to-order and really anything you want. I was thrilled that they prepared both a "green" juice and a 'beet" juice every morning. Given that the eating situation gets more intense as the day goes on, I'd try to rein it in at breakfast with a huge bowl of tropical fruit, plain yogurt and some granola. My daughter asked kindly that I NOT make her eat anything too healthy, as we were on vacation – so I took a breath as in my peripheral vision, I could see her ladling condensed milk onto stacks of heavily sugared French toast.
Lunches were a simple choice of either going to the main restaurant AZUL where again you'd have the offering of a huge buffet containing everything from grilled chicken and shrimp to Ceviche, cactus salads and the kids of desserts you certainly don't even want to look at at lunchtime. You can also make your way to the little café by the swimming pool where you can order a pretty decent tuna or club sandwich with crispy fries.
Despite the abundance of food, you get a lot of activity in and even if you think that you want to stay on your lounger all day, you will be encouraged to leap up for water aerobics, table tennis tournaments, tennis and more. There are also all kinds of enticing trips to be taken including scuba and jungle zip-lining.
The most impressive aspect of Grand Velas Riviera Nayarit is the restaurant experience. I didn't expect to find three 5-star, gourmet restaurants to choose from in an all-inclusive resort. In typical all-inclusive hotels, the food can become a bit much – endless buffets for breakfast, lunch and dinner can become off-putting. At the Grand Velas you get to choose from Italian, French or Mexican. I wasn't expecting to be impressed by the first two – coming from Europe, I was a little hesitant about gourmet French food in Mexico! I was proved wrong – it was exquisite. Piaf is the romantic French restaurant (the only one where kids aren't allowed,) and the lobster veloute was the best I've ever tasted. All the restaurants were incredible and became something that we got excited about every evening. My favorite was Frida, the Mexican restaurant. I'm not typically a fan of Mexican food – I can so live without burrritos, tacos, etc but in Frida you won't see one single tortilla chip or Margarita – this is truly gourmet Mexican food, which was quite sublime.
I give a full five stars to the chefs of each of these restaurants, and I believe that guests come from all around the area, not just the hotel, to indulge.
As we walked back up to our rooms every day, we got a fantastic view of the lush, green mountains, which cradle the region. I also got to look down on the lower roofs of the resort, which were completely covered with solar panels. Apparently when the hotel is at half-occupancy, 100% of the water is heated by solar – when the resort is full, 75% of the water is heated this way. I think that's hugely impressive and provides a great role model for other resorts. The other energy-saving initiatives in the resort are well thought-out: when you leave your room, you take your room key out of a little slot by the door, and all the energy shuts down. So aside from the now ubiquitous "help save our water by not getting your sheets laundered everyday," Grand Velas is ahead of the game.
The other eco-friendly touch I noted is that there is very little paper or plastic used. Even around the pool, you're given cloth napkins, real flatware and reusable plastic goblets. In an area of high tourism, these steps to avoid one-use disposable items, is so important. You only have to walk a few miles down to the beach, where it's not cleaned daily, to see the awful plastic debris, which is beginning to foul our precious planet.
The spa is absolutely magnificent. Before each massage, the therapist takes you through a beautiful spiritual ritual before leading you into an hour or so of heaven. All the products used for body and facial treatments are organic and Gorgeously Green approved, which I love because there's nothing worse than going to a spa to find yourself being plastered in toxic chemicals.
So if you're up for a luxurious all-inclusive family vacation, where you're guaranteed a magical experience and plenty of sun, you could do a lot worse that check out this fantastic resort. There are apparently great deals to be found too – so every now and then, go to their website and if you're on at the right time, you might be lucky enough to nab one of their crazy bargain deals – if you can, it would be so worth it – and remember children are free.