360 Cookware is absolutely and unequivocally my cookware of choice! I've been using these pans for over 8 years now, and I can honestly say that I'd have hard time living without them. Okay, let's get straight into reasons why:
They employ something called a "Vapor Technology" which sounds like some bizarre gimmick, but it's not. The pans are made with 3 layers of non-leaching T-304  stainless steel, which heats food extremely quickly, locks in moisture, and negates the need for extra fats and oils. This "vapour cooking" also means that you can steam veggies in a couple of minutes with just a couple of tablespoons of water. This means that less nutrients are lost during steaming.
The pans are some of the most environmentally-friendly I've ever found. They are 100% safe/non-toxic, and are made in a family-run facility in Wisconsin. This is also an uber green manufacturing facility.
360 cookware is all about clean cooking at its very best: zero chemicals or leaching, minimal amount of fat and oil used in cooking, more nutrient rich veggies.
I actually met the owner of 360 Cookware a few years ago when I was doing a cooking demo at The International Home and Housewares Show. I was browsing the booths before my demo and came across Akasha (brilliant chef of Akasha Restaurant in L.A.), who was demoing some of her delicious concoctions in the pans. I got chatting with the team and they sent me their 2-quart saucepan to play with. The first thing I ever tried cooking in it was a huge head of broccoli. I did as instructed and added a couple of tablespoons of water to the pan. I then covered it with the lid and set the heat on medium high. After about one minute (once it starts steaming), I twirled around the lid to see if it had locked (as they said it would). I then turned the heat to low, and 2 minutes later I had the most perfectly cooked broccoli I'd ever tasted. It was crunchy, tender and flavorful – all in just 3 minutes. I was hooked.
Since then I have tried almost every piece of 360 cookware, and I am never disappointed. I think my all-time favorite piece (although tough call), is the Slow Cooker. It's not an inexpensive piece, but I can honestly say it's worth every single penny (calculate just over a dollar a day for a year!). It goes from stove to slow-cooker plate, which is ideal because I start off my veggie chili on the stove with sauteing the onions and spices etc, then I dump everything in the pan, transfer to the base, and forget about it for hours.
So, if you're thinking of upping your game in the cooking department, or if you want to start trying cooking with less oil, you might want to check these guys out. Moreover, if you want to take your veggie cooking to a whole new level – consider investing in one or two 360 pans. You won't regret it.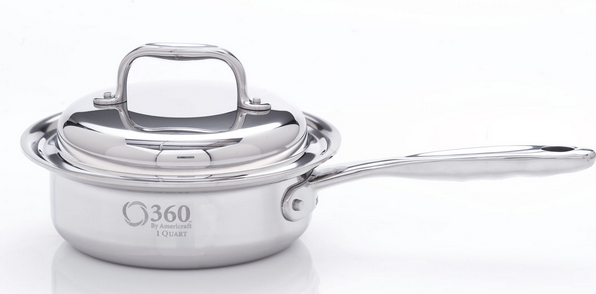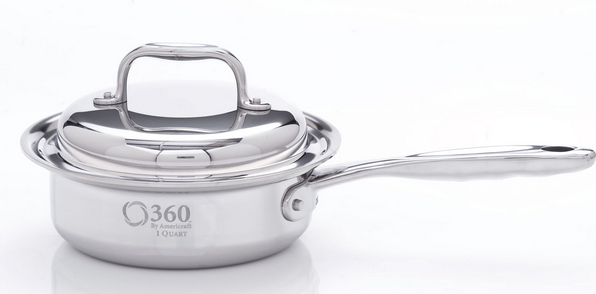 Tip: If you want my recommendation of best starter-pan from 360, I'd choose the 1-quart saucepan. This has become the workhorse of my kitchen. I pretty much use this pan every single day.
And big update (for a short time only!) 360 Cookware are offering the 1-quart pan to my community at a hugely reduced price!!!! It's usually $150.00 and until supplies last, you can get it for just $49.00, but they will run out very fast at this price so don't delay (gift everyone you know who loves cooking a 1-quart pan for the best-ever Holiday gift). Click here to get your pan at this price.
And don't forget: Use the code SOPHIE20 for 20% off for all 360 Cookware products:)