Welcome to my first Gorgeous For Good video cooking series. I created this short series to help you with the eating portion of your Gorgeous For Good 30-day program. If you are new to eating a 100% Whole Food Plant-based diet, you may want a little bit of inspiration – a little help in showing you how easy it is to cook without using meat.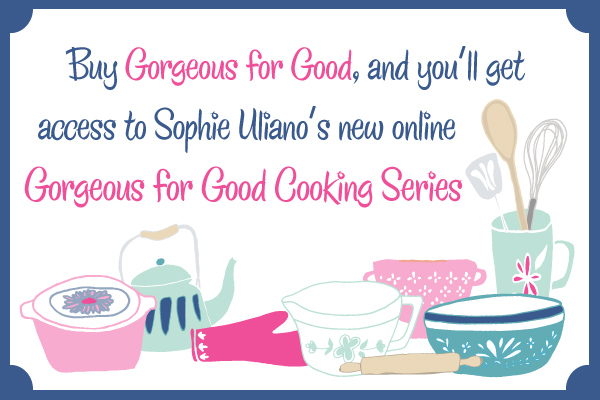 In my experience of transitioning to an almost exclusive plant-based diet, I had to learn a few simple tricks and skills to make life run a little more smoothly in the kitchen. Like you, I am busy-beyond-all-reason, and to complicate matters, my family likes to eat meat! I realized that many of you were in the same boat, so I whipped out my pots and pans, switched the lights and camera on, and got to work showing you how to make easy breakfast, lunch and dinner recipes to set you on your way.
There'll be more to come, but for now – enjoy my first humble offering (oh, and there's a few bonus snacks in there, too!)
To access the series, simply order or purchase my book, Gorgeous for Good. If you have the book in your hand, turn to page 139 of your copy, and enter the five word phrase at the top of the page in the form below. If you've ordered it, enter your Order Number in the form below. You'll receive a code that will allow you immediate access to the cooking series.
Sophie xoxo
---