I LOVE cooking for holiday meals. I just adore holing myself up in the kitchen with seasonal ingredients and great music! I'm about to go off to the market to buy the food and have been really strict with myself about creating a thorough shopping list, as I don't want to waste any food this year. Remember Americans typically throw away almost one third of all the food they buy, which is pretty obscene. Here are 5 Easy Tips for making your Thanksgiving meal a little healthier this year:
1. Make your own Cranberry Sauce: Cranberries have incredible health benefits, however, to receive the full nutritional punch, they need to be fresh,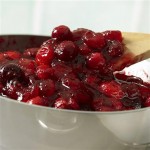 rather than canned or in a jar. Making your own cranberry sauce is a no-brainer and takes less then 10 minutes.
Cranberry Sauce
12 ounces fresh cranberries
1 cup raw, organic sugar
1 cup organic orange juice
In a medium saucepan, over medium heat, dissolve the sugar in the orange juice. Add the cranberries and stir until all of them have popped. Pour into a serving dish and cool before serving. You can make ahead of time and store in a sealed container for up to 5 days in the fridge.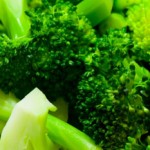 2. Add some Green: Make sure you add a seasonal green veggie. I like to include broccoli as a side dish, as it's in season. I toss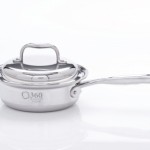 the gently steamed broccoli with a few chestnuts. When steaming any veggies, I always use my 360 Cookware. This cookware is genius because it employs a waterless, vapor-lock technology, where you literally add 1tbsp of water to any veggie you steam. You then put pan on a very low heat and after a few minutes the lid will lock all the steam inside the pan. After about 3 minutes, you'll have perfectly steamed broccoli with no nutrients having been lost in the water. I couldn't live without these pans!
3. Add a salad: With all the heavy food that typically makes up a Holiday meal, make sure you include a seasonal salad for those who want something a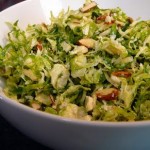 little lighter. I love this Brussel Sprout Salad:
Crunchy Brussel Sprout & Cranberry Salad
4 cups brussel sprouts, trimmed and thinly sliced
4 ounces crumbled goat/feta cheese
1 cup dried cranberries
1 cup sliced almonds
Dressing: 1/2 cup EVOO, Juice of 1 lime, sea salt & pepper
Make sure that you slice each brussel sprout very thinly, so they're almost shredded. Toss all the ingredients together in a large bowl and Voila!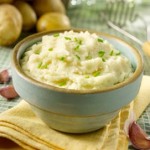 4. Healthy Mash: Make your mash potato really healthy this year – Choose organic potatoes (one of my must-buy-organics). Instead of using butter and milk, whip them up with good olive oil and a little almond milk. Add a couple of cloves of immune-boosting garlic and top with 1/4 cup shredded scallions.
5. Better Sugars: With all the wonderful sweet goodies on the go, see if you can bake with a healthier sugar. My top choice is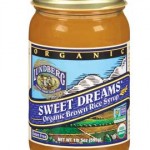 Lundberg's Brown Rice Syrup, which is malty and superb for adding to a pumpkin pie recipe. You may also want to substitute Raw Agave Syrup for sugar in some recipes or even raw honey.