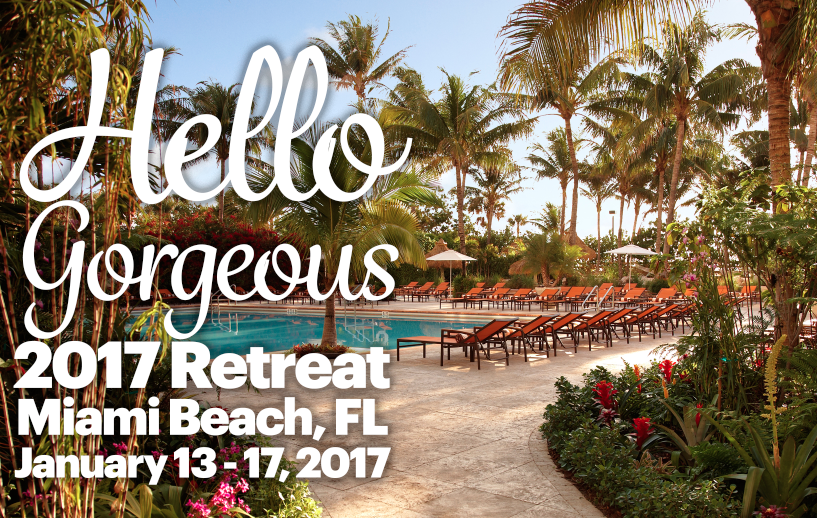 I am delighted to invite you to join me for my first ever Hello Gorgeous wellness retreat at the stunning AAA Four Diamond and Preferred Lifestyle The Palms Hotel & Spa, on golden Miami Beach January 13 – 17, 2017. Over the course of a long weekend, you will learn how to make life changing wellness choices, which are guaranteed to make you feel Gorgeous from the inside out.
I believe that it's possible to live a clean, healthy and energized life whilst still being able to function as a "normal" person, instead of a crazy health nut!
Hello Gorgeous is a wellness boot camp for the modern day woman with a very busy life. It will provide you with a permanent lifestyle change. While I embrace the parts of your life that you love, I also address the nutritional, physical and mental changes that you've dying to make for years. This is a simple, easy program that works, guaranteed!
Let this be your personal WAKE UP CALL!
2017 is the year to put your well being on the top of your to-do list. When your health isn't a top priority, the effects are far reaching.
Let's make a change before it's too late!
Vacations are great, especially family vacations, however, the Hello Gorgeous wellness retreat is very different. We take a holistic approach to wellness, understanding that it all starts with your mind. You cannot make lasting changes by just going on a diet plan, a fitness boot camp, or weekend yoga retreat. A lovely spa weekend rarely fails to make your feel fabulous. However, do you still feel fabulous a month later?
This is why we have created the Hello Gorgeous Program for you.
"Wellness retreats are not a luxury – They are a NECESSITY"
In a beautiful and intimate setting, you will work (and play) alongside myself, and my team of wellness experts so that you walk away with …
A personal fitness program (for strength, cardio, flexibility)

A personalized nutritional program

A mini meditation practice

A home yoga practice

A personalized natural beauty regime

Our unique program that works for normal girls!

A head full of positivity and 'I can…'

Good habits

And that euphoric feeling knowing something in you has changed for the better.
---
The HELLO GORGEOUS 2017 Retreat includes:
4 nights at The Palms Hotel & Spa in wonderful Miami Beach, Florida

All-inclusive meals (breakfast, lunch and dinner) designed to help you feel amazing

Seminars led by myself and Melina Harrison BSc Hons Ost GOsC, one of the UK's premiere osteopaths

Daily Gorgeously Green Beauty Gifts and surprises

Morning meditation

Morning and evening group fun physical challenge

Twice daily yoga classes

Personal consultations led by me and Melina

Beauty Makeovers

Down time at the beach, pool and resort just to be your gorgeous self
---
Fees: This life-changing experience is fully inclusive of all the above. All you need bring is your swimsuit, flip flops, and your lovely self.
$2899 per person sharing a double occupancy room

$3779 for a single occupancy room.
The only extra costs are the following:
Travel to and from the retreat

Additional food and beverages outside of the all-inclusive meal plan

Alcohol

Free time excursions

Custom spa treatments at The Palms Aveda Spa

All that shopping you might want to do!!
Spots are extremely limited because I wish to keep our group small, so to avoid disappointment (and to plan your travel well in advance), so CLICK HERE secure your spot now.