[showhide type="pressrelease" more_text="Display video transcript" less_text="Hide video transcript"] Hi, I'm Sophie Uliano, and thanks for joining my community
Now, I have an invitation for you: I want to invite you to my Gorgeous For Good beauty seminar in NYC on February 9th at 12pm PST, but don't despair if you can't be in NYC on February 9th because, guess what? I am live-streaming this event, and what this means is that you can be there! You can join me from the comfort of your living room, or your bed, if you like! And I really want you to be there with me because you can ask me questions live time, and you are going to learn a ton of stuff.
People who at attending this event are paying $59.99 for the privilege, but you can attend for FREE by simply pre-ordering my new book, Gorgeous For Good. And it really is a true win/win because you are going to want my book anyway, and you'll be the first to have a copy of it in your mitt! Let me tell you – it's a 30-day program that is going to transform the way you look, and more importantly, the way you feel, about yourself. So reserve your FREE spot by following the directions below the video, and I'll see you there![/showhide]
Hello again Gorgeous!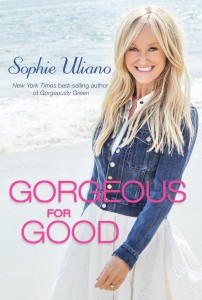 Thanks so much for joining my community – be sure to check your Inbox to find the link to your free ebook! My promise to you this year is that I will teach you in everyway possible, how to feel truly gorgeous from the inside out.
Gorgeous For Good has been my passion project for the past 2 years, and I can't quite believe that the time has come when I get to share it with you.
I recently conducted an amazing Gorgeous for Good webinar, where I covered all sorts of interesting topics like:
My 5 Essential steps to lasting Gorgeousness
How to create a toxin-free beauty regime
The only 4 true "anti-aging" ingredients (because there are only 4!)
What to eat and drink for uber-gorgeousness
How to stay strong & flexible for life
How to heal the stress=premature aging cycle.
I'm sorry you missed the live webinar, but you can still access it by pre-ordering Gorgeous For Good (you will SO not regret it,). Once you've done so, just come back here (don't worry – we've emailed the link to you, so that you can be certain to find the page!!) and fill out the form below, entering the Order Number from your Amazon receipt.
Then all you have to do is watch your email for your access details!
Love & Light,
Sophie
Reserve your FREE space today!!
STEP ONE
Pre-order my new book, Gorgeous for Good.
STEP TWO
Grab the order number from your receipt.
STEP THREE
Fill in the form below!
OUR SPONSORS