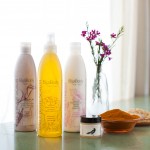 I'm lucky enough to get quite a few samples winging their way through my mailbox – so many actually, that "Team Gorgeously Green" has quite a tough job deciding which ones to review in our Gorgeous Finds section. We are always looking for products that not only meet our strict criteria (non-toxic and super-effective,) but also products that stand-out above the rest.
The other day, I was trying and smelling a few new samples and Bija Body was one of the stand-outs for me. They specialize in body treatments – natural, anti-aging lotions and potions for the largest organ of your body – your skin! They also carry a line of wonderful "beauty" teas. Most of their products include a signature blend of wonderfully nourishing oils called their "Honey Oil", which includes organic honey.
We love their anti-aging bath & body set, which includes a large sized scrub, body serum, body treatment and lip/hand treatment, and teas. They use exquisite ingredients that smell soooooooo divine! This set would make for a perfect bridal shower or girlfriend B.Day gift.