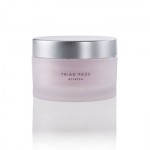 I'm a big fan of Arcona Skincare and have reviewed a number of their products, however, one of my favorites is their "Triad Pads". These have made my cleansing routine while traveling, very easy. The jar comes with 45 cotton pads, which are soaked in a wonderfully astringent cranberry toner, which also contains rice milk and vitamin E. The pads are textured so it they gently exfoliate your skin, while toning.
I use them after a quick cleanse with a regular cleanser or makeup remover and I'm always amazed at how much more grime they seem to be able to extract from my skin. The really cool thing is that when you're done, your skin feels really fresh but not at all dry. It actually feels slightly moisturized.
I highly recommend this wonderful product either for travel or if you are going from the office to a night-out and want to freshen up and re-do your makeup.