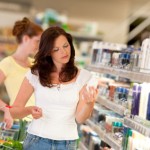 I often get asked questions about how to shop smart and green for beauty products. Let's face it, it's tough with so many brands on the shelves, ads in magazines, pretty packaging, seductive scents and outrageous claims. Between buying deodorant (that actually works), hair care, bath products for the kids, toothpaste, and then brave the daunting eye, wrinkle, brightening, soothing, tightening FACE crème… yikes. It can take hours to check the labels and read up on the ingredients before figuring out if it gets a green thumb up or down.
While this is not a detailed list by any means, these are the top 6 things I check before purchasing a product. I hope they help!
1)    Get to know the Brand: I like to support companies that only sell products without toxic ingredients. There are some companies out there that have their "dirty" line and then their "clean" line. I feel very skeptical of a company that does not fully stand behind using ingredients that are safer for our bodies and the environment. There are many companies that in general sell cheap products using potentially harmful ingredient's. Then they have their "natural brand" mostly to use their powerful marketing skills around a few trendy ingredients without the end product being truly safe, beneficial or natural at all. By supporting a company that does "good" all the time, from the quality of ingredients to their core mission and sustainable practices, you really are helping to support positive change for the planet.
2)    Just Say NO To Synthetic Fragrances: As most of you know, I am a purist. When it comes to scents in a product, I am not comfortable with a synthetically made fragrance. A "fragrance" can be made up of hundreds of toxic ingredients, some even potentially carcinogenic. Usually a fragrance is found towards the bottom of the ingredient list. Look for products solely scented with pure essential oils, they are the safer choice.
3)    Skip Sodium Lauryl or Laureth Sulfate: SLS and SLES can be drying and irritating. Instead I choose products with Decyl Glucoside or castile for their lather and suds in shampoos, body wash, shaving crème and kids bath products. Decyl Glucoside does not create as big of lather as Sodium Lauryl or Laureth Sulfate but it has much less potential for irritation and allergic reactions. Besides, big lather does not make you cleaner!
4)    Make sure ingredient list if provided: Does the product have the ingredient list available on the packaging or on the website (if you are online shopping)? If there is no ingredient list and they claim to be "natural" or "organic", that is a red flag. What do they have to hide?
5)    Keep it Wholesome: If you read an ingredient list and it sounds more like a chemical reaction in a bottle…it probably is! Just like shopping for a hearty bread, you want the ingredients to be recognizable, plant based and wholesome without all the fillers and artificial junk.
6)    Skip Certain Preservatives: First let me start by saying that preserving cosmetics is absolutely necessary. Microbes can be damaging to products and to our health. Preservatives are used to kill cells, which means they also have the potential to kill living cells in our bodies, which is why preservatives are a tricky topic. There are many types of preservatives used and it's very difficult to identify which are truly natural, safe and effective. I often look to the European Union which strictly regulates evaluates ingredients for their safety. While the verdict is still out according to the EU about the safety of Parabens, I still avoid them since there have been suggestions that they can be hormone disruptive, cause many allergic reactions and rashes. I also avoid Urea, which is considered a formaldehyde donor and a cause of dermatitis. These ingredients are usually found near the bottom of the ingredient list.
I hope these tips are helpful when shopping for your greener personal care and beauty necessities. By putting the products through this "6 rule" checklist, you will probably find some new, fabulous products that are good for the body and the earth.
By our guest blogger Kristie McNamara of Tilvee.