I first met Jackie Johnson a few months ago when I was asked by Indie Beauty Expo to moderate a beauty panel. Jackie was the absolute stand-out "beauty influencer" for me. First off, she arrived in a salmon pink fake fur jacket, flame red hair (which is naturally hers- totally jelly), and bright red vegan pumps. She looked stunning.  And the first thing out of her mouth had the audience in stitches. You know me, I love a girlfriend who makes me laugh. We can get way to serious when we talking about issues such as toxic ingredients, and/or animal cruelty. They are serious issues, however, Jackie has a way of making even the most important-to-discuss topics, FUN!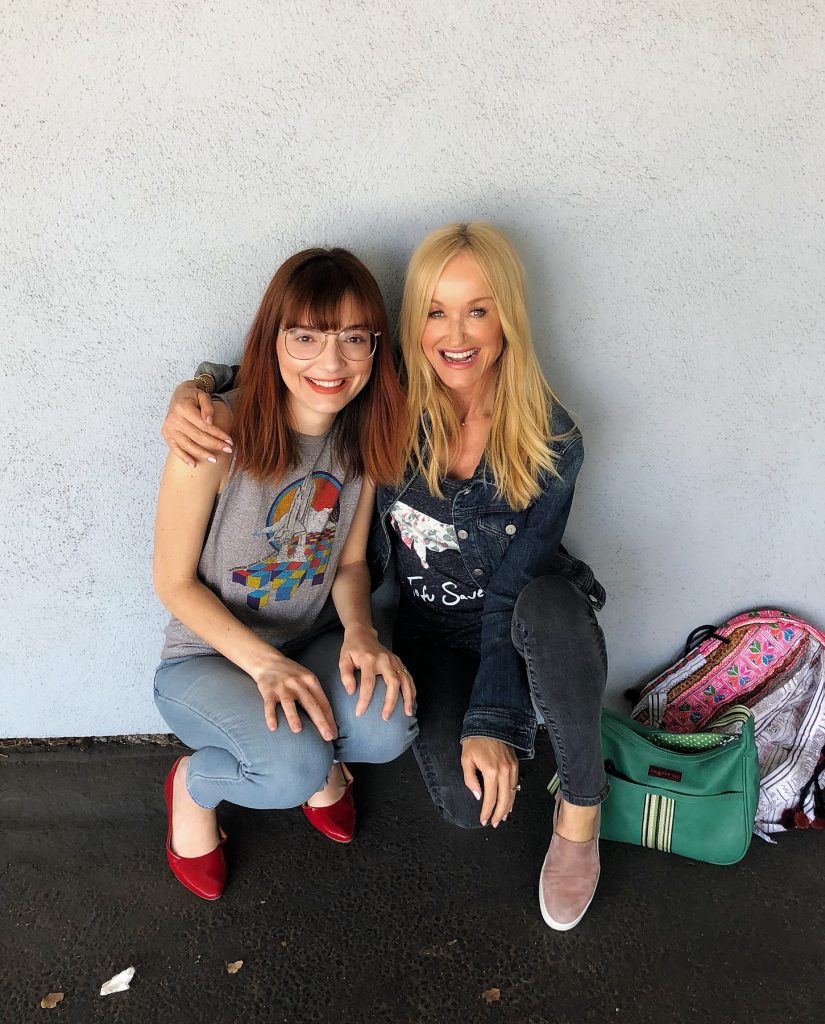 So as soon as the panel was done, I knew that Jackie had to be part of the Gorgeous For Good weekend wellness retreat, and she is!!!!! Jackie will be moderating one of our green beauty panels (Kym Douglas will be moderating the other), and I couldn't be happier. So come on down (still some tix left), and prepare to be pampered and wowed by more wellness gorgeousness than you'll ever get to see in one place.
Jackie is now best known for her hilarious and informative podcast called Natch Beaut. I hopped on over to Burbank to record it with a couple of weeks ago, and got the chance to ask Jackie some questions. My episode is now live, so
check it out.
S.U. Where do you come from in the south, and what bought you to LA in the first place?
Jackie
: I am from Dallas, Texas. I came to LA to pursue a career in entertainment. I have wanted to do comedy my whole life. 
12 years later
 and I'm still kicking, baby!
 S.U. How long have you been vegan….and why are you vegan?
 Jackie: I went vegan on New Year's Day 2010. I was in a major food rut and was feeling so sluggish and unhealthy and basically only ate things from a drive-thru bag. A woman on set with me was reading Skinny Bitch, and I chatted her up based on the funny title. She handed me the book and said I could keep it. I had no idea it was about being vegan (spoiler alert) and the material really resonated with me. It all made sense to me and became my vegan gateway book. Although, I had felt inner turmoil about eating animals since childhood, but continued to do so out of convenience, so the seed had already been planted. In my 8th year of being plant-based, I plan on never looking back! Every reason to be vegan (the environment, the compassion, the health) is the right reason!
 S.U. Give us a quick run-down of Jackie's "what I eat in a day"
Jackie: I start every day with jasmine green tea with almond milk. Then I might make a smoothie in my beloved vitamix, or I might just slice up a green apple and dip it into peanut butter. For lunch, I will probably be out and about, so I might get my favorite lunch special at Mohawk Bend- a personal pepperoni pizza (vegan of course) with a side of ranch dressing and the crispy kale caesar (It's only 10 dollars, get on it!) I will most likely stop at Magpie's soft serve on the way home and get a swirl of whatever their vegan flavors of the week are, plus hard-shell chocolate on top (they have SO many vegan toppings!) For dinner, I lately have been ordering meals from a service called Hungry Root- it's all vegan and gluten-free. The sweet potato pad thai is EVERYTHING, honey. I add chopped green onion and nutritional yeast and it's pretty much my favorite thing ever. They also have a curry soup that I dream about.
 S.U.How come you started Natch Beaut (and how did the name come about)?
Jackie: Being a comedian in LA means you have to have a podcast. At this point, it's basically a requirement. I wanted one with a niche angle to help it stand out from the rest, and I have always loved chatting beauty with my friends, so it seemed like the perfect topic. I grew up reading teen beauty magazines, so I wanted the show to have a funny title that sounded like a fake beauty magazine, so Natch Beaut (short for natural beauty) seemed perfect!
 S.U. If you had to pick one beauty lesson that's been face-changing from one of your guests so far???
Jackie: The things I have learned have been endless! I pick something up from literally every guest. If I had to pick just one, it would be Nicole Byer explaining to me how to overdraw my lips correctly. I lamented to her that I always overdo it and end up with a lower lip like a bull frog. She said "Look at Betty Boop, and just draw her lips over yours," meaning just overdraw the very middle of the top and bottom. Since then, my overdraws have been perfect and I owe it all to Nicole!
 S.U. Aside from animal testing, what else alarms you about beauty products and/or the industry?
Jackie: My eyes have been awakened to so much shade. Big brands that "borrow" color stories or designs from little brands is so not cute. The exclusion of people with deeper skin tones among big brands and their product launches is a huge issue I am now aware of and call out. I also read ingredients more carefully. I do not want crushed up beetles aka carmine going on my lips and eyes! Yet it is still in almost everything.
 S.U.And finally, makeup obsession of the moment…what is it?
Jackie:This is such a loaded question! It is constantly evolving. Right now I am into BIG hair thanks to my recent guest Jonathan Van Ness, who taught me to sleep with my hair in a loose top knot on the top of my head with a satin scrunchie. That, in addition to the Use Me Hair Mist has transformed my lob! Makeup-wise, I am getting into a glossy lip. I have been a matte gal for so long, and where have I been honestly? Gloss is where it's at!
---