GLAMOUR EYE & LIP PALETTE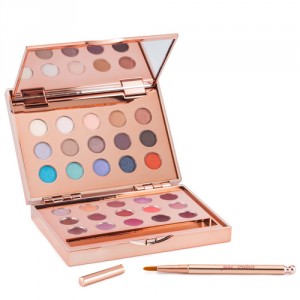 Can I just say something here? I am a little jaded when it comes to makeup hitting my desk because I road test a lot of different brands throughout the year, but OMG, Jane Iredale's Holiday Glamour Eye & Lip Palette has my heart pit-pattering because it's so darn CUTE! I wanted to give it a shout-out right now because if anyone's asking you want you want for a Holiday gift, you might want to put this on your list. It comes in a  glam rose gold mirrored compact, which opens up to reveal 15 PurePressed eye shadows, 10 PureMoist Lipsticks, and 5 PureGloss Lip Glosses. Not only is it adorable, but it's also very functional: It slips into even a small evening purse, and unlike many "Holiday" palettes, it actually contains a plethora of shades for both your eyes and lips that you'll want to use everyday.
If you are new to Jane Iredale makeup, this is a perfect way to test all her beautiful shades. I also happen to think it's the ideal girlfriend gift for the BFF you really want to treat!